Adult-Petite / Teen Performance Mask 2-Pack
Our award-winning Performance Masks are optimized for breathability, all day comfort, and ultimate protection. Expertly constructed with 3 layers of moisture-wicking, anti-bacterial cotton, our masks not only look great but keep you protected all day long.
Secure Fit: Adjustable chin toggles create a snug fit that sits comfortably on the face.
Bendable nose bridge: Secures your mask over your nose and stop glasses from fogging up
Reusable: Machine-washable for easy care (plus, it's better for the environment)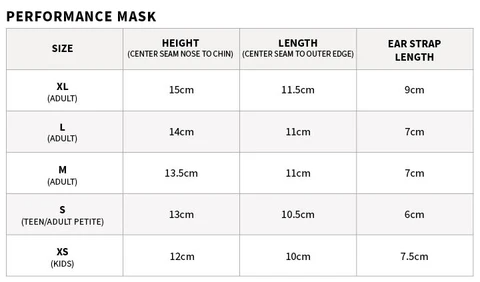 • Adjustable chin toggles - to assure a secure fit
Bendable nose bridge
• 3-Layers of Moisture-Wicking
• Anti-Bacterial Cotton
• Machine-Washable
• Protective
• Breathable
• Comfortable

Sizing
• Kid (XS): Ranges between 6-12 years (10 cm
W, 14 cm H, 8cm Earloops)
• Teen/Adult-Petite (S): Older kids, pre-teens
and smaller adult faces (10.5cm W, 14,5cm H,
8cm Earloops)
• Medium: Most commonly sold size for women
(11cm W, 14.75cm H, 9cm Earloops)
• Large: Women and men looking for fuller
coverage; most commonly sold size for men
(11cm W, 15cm H, 9cm Earloops)
• XL: Fuller or wider faces (11.5 cm W, 15.5 cm
H, 9.5 cm Earloops)
*Face mask sizing is all about your facial features and not about your body weight or clothing size!
Please see Size Chart https://rafinova.com/pages/faq

Materials
100% Cotton, 3-ply (with anti-bacterial filter)

Washing Instructions: Machine wash on a gentle cycle. Hang to air dry.
Origin: Made in Vietnam. Designed and shipped from Boston, with love.
Customer Reviews
Write a Review
Ask a Question
05/10/2021
christine v.

United States
I recommend this product
performance mask set
I was looking for a mask that was soft and yet made me feel protected. It was easy to adjust. I have a Rafi nova without adjustable chin straps that has adjustable ear straps. I do wish these had both? BUT the ear straps are very comfortable. I like this mask for ALL day wear at work. It has helped me feel more secure.They are also stylish.
05/10/2021
Anonymous

United States
I recommend this product
Great fit, great look
I love the adjustable fit of the mask. It secured it to my face and doesn't leave gaps. I appreciate how it looks, especially with the nose groove already formed for me.
05/07/2021
Donna B.

United States
I recommend this product
Best fitting mask
Extremely comfortable and doesn't cause fogging of my glasses
04/16/2021
Elena B.

United States
I recommend this product
Nice for teens
Great. Very thick masks that's comfortable and fits my teen son
The Rafi Nova Promise
Rafi Nova is on a mission to get families out for everyday adventures with products and content that inspire. Join the Rafi Nova Everyday Adventure society on Facebook to connect with others on this journey as we get real about parenting - its issues, triumphs and challenges, while encouraging our community to get out in the world and enjoy life to the fullest.