Our Sensory Friendly Mask was developed in partnership with Easterseals SoCal, a leading provider of disability services for people with autism and other sensory sensitivities. 
A face covering that feels good, the 
Sensory
 Friendly Mask has been tested by kids, adults, and therapists to ensure a sensory-friendly
 experience for all wearers. For those with Autism and sensory sensitivities, mask-wearing can be a challenging task, yet one that is needed to help keep our communities safe.
The Sensory-Friendly Mask features 5 S's:

Soft – 100% Mulberry silk liner is incredibly soft and hypoallergenic while its adjustable jersey knit straps wrap comfortably around the head and clasp as opposed to around the ears.
Secure – Adjustable nose bridge ensures the perfect fit and decreases glasses fogging.
Safe – 3 layers of protection including a highly breathable cotton exterior and a 100% antimicrobial middle layer.
Structured – Minimal design and limited seaming create a comfortable mask that stays away from the mouth.
Social Story – Visual storytelling guide included with every mask helps children understand the mask-wearing necessity

For more information about the collaboration please see our blog here!
Please note sizing recs. by age are approximate.

Little Kids (ages 5–8) W 10 cm / H 12.25 cm / Ear-Loop (though adujustable)14.5 cm
Kids (ages 9–13) W 10.5 cm / H 13.5 cm / Ear-Loop (though adujustable)14.75 cm
Adult (ages 14-99+) W 11.5 cm / H 15.5 cm / Ear-Loop (though adujustable)15 cm

Care Instructions
Machine wash on a gentle cycle. Hang to dry.

Materials
Solids
Outer layer: 100% cotton
Middle layer: 100% antibacterial polyester
Inner layer: 100% mulberry silk

Prints
Outer layer: 100% polyester
Middle layer: 100% antibacterial polyester
Inner layer: 100% mulberry silk

Straps
Polyester/Spandex antimicrobial blend
Customer Reviews
Write a Review
Ask a Question
I recommend this product
solid mask, well built, band sometimes bothers ear
Overall, I like this mask, but the attachment method occasionally hurts my ears, which I didn't expect. I like the nose clip and the spacious area within; it makes it a little easier to breathe with less fogging of my glasses. I still get a bit of sensory overload with the mask on my face, but it's better than some of the other fabric masks I have. The band works okay, but every now and then, it hits the back of my ear a certain way and gives me a headache. I like that it connects at the back so that I can push it down and leave it hanging around my neck.
12/31/2021
Marilyn D.

United States
I recommend this product
Sensory masks
The design of your sensory mask is perfect for my teenage son who has autism. It fits comfortably on his face and he doesn't pull it down and chew on it as he does with other masks we've tried.
12/05/2021
Leah E.

United States
I recommend this product
This is the only mask my son will wear
I love how this mask is so different than all the others. It is great for children with sensory issues. It is much more comfortable. I'm really happy I got it for my son.
11/03/2021
Wilma S.

United States
I recommend this product
These are amazing. Soft material and buckles in the back.
I love these masks. Somehow the straps put pressure on the tops of my ears though, even though the pulling is no longer there, I still get headaches from that. I have short hair so it's hard to hold up the back if I don't let it strap over my ears. With that said…these are comfortable in every other way and way more comfortable than any others I've warn.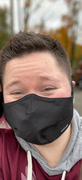 The Rafi Nova Promise
Rafi Nova is on a mission to get families out for everyday adventures with products and content that inspire. Join the Rafi Nova Everyday Adventure society on Facebook to connect with others on this journey as we get real about parenting - its issues, triumphs and challenges, while encouraging our community to get out in the world and enjoy life to the fullest.