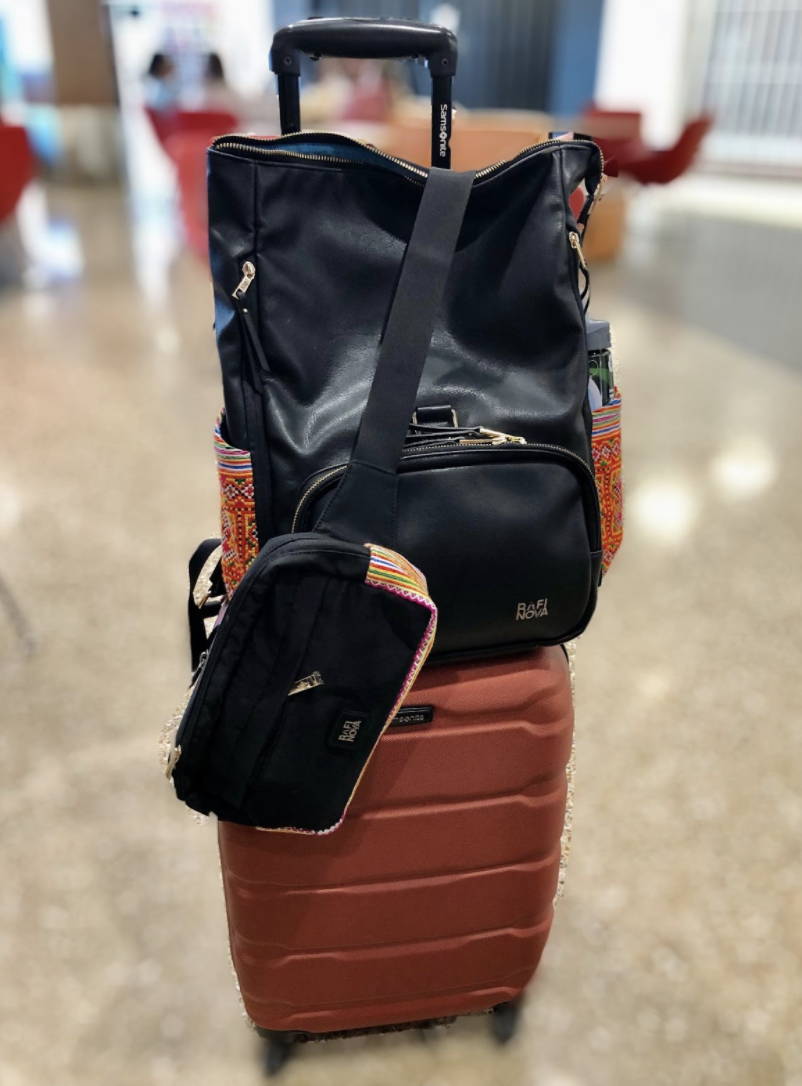 This past weekend, I traveled for the first time in 15 months. I used to be someone who flew all the time. Whether for business or to visit a friend, I could pack my suitcase in under 20 minutes and not forget anything! This time around it felt like I was flying for the first time. I thought I was ready - I had my bag packed the night before, I remembered to check into my flight 24 hours before and I remembered to charge my headphones. Turns out I was not prepared… I forgot all of my chargers, did not download a book for the plane or bring a hard copy, and my phone had less than 50% charge when I got to the airport.
My saving grace was my Rafi Nova Voyager Bag and my Around the World Belt Bag.
Now as a former my-old-college-backpack-will-do-just-fine type of person, I never thought a bag could dramatically improve my travel experience. But it 100% did.  

I was able to fit everything and more in my backpack, including my belt bag! I had an (empty) water bottle, laptop, pouch with random essentials, wallet, sweatshirt and a plethora of random items I probably should have taken out before leaving for the airport. While walking around the airport, I was able to use the clips on the straps of my backpack to clip it to my roller suitcase and not have it on my back the whole time. The easy access side zippers let me dig out my scrunchie that had fallen to the bottom of the bag without needing to dump everything out. And my laptop was secure and easy to access in the padded laptop sleeve along the back of the bag allowing for easy security scanning - plus, had I remembered my charger, it would have fit perfectly into the little zippered pocket in the laptop sleeve.
I'm also someone who hates to have to either keep pulling my bag out from under the seat in front of me during the flight, or hold a bunch of things in my lap, so having my belt bag was a game changer! I was able to pre-pack it with the little things I wanted while on the plane - sanitizing wipes, hand sanitizer, headphones, gum - and wear it over my shoulder, around my chest during the flight. I even tucked my phone in there for most of the flight so I didn't have to worry about it falling (which always happens to me).
Even after landing, the belt bag was the perfect weekend purse, keeping my essentials within reach everywhere I went. Even though I felt so lost and unprepared getting to the airport, the experience taught me one big thing: upgrading from basic bags to thoughtfully designed quality bags meant for travel makes the whole trip better!